---
A landmark year for LWBC: : the organization receives its first full-time support with the appointment of Pascal Paradis as Executive Director. LWBC seeks to reach out to the public; it organizes a Canadian tour with Mr. Reinaldo Villalba Vargas, member of a partner organization, the Colectivo de abogados José Alvear Restrepo (CAJAR). The purpose of this tour is to raise awareness among the authorities and the public about the situation in Colombia. 
---
In Colombia, LWBC realizes that, given the numerous attacks on lawyers and the dangerous situations facing them, and to make an impact in cases of human rights violations, greater emphasis will have to be placed on denunciation, intervention, support and follow-up actions. Priority is also given to strengthening the solidarity network across the legal profession.
The right to truth and reparation, the fight against impunity and the representation of victims in a context of demobilization of paramilitary groups are also becoming central elements in the continuation of the Solidarité et défense des avocats de la défense project. 
---
In Afghanistan, decades of civil war have left the Afghan justice system in a transitional phase. LWBC and LWB France team up to submit a draft Code of
Ethics and a project to create a national lawyers' association to the Minister of Justice, an initiative put in place at the request of his predecessor and based on a project developed by the Afghan Judicial Reform Commission.  
The Minister of Women's Affairs, along with representatives of the Lawyers' Association and the Independent Human Rights Commission, express their interest in participating in training courses in which the Ministry of Justice wishes to become a major partner and which focus on:
international legal instruments protecting human rights;

human, women's and children's rights;

labour law.
However, excessive insecurity in Afghanistan forces LWBC to terminate the Pour que l'espoir demeure project.
---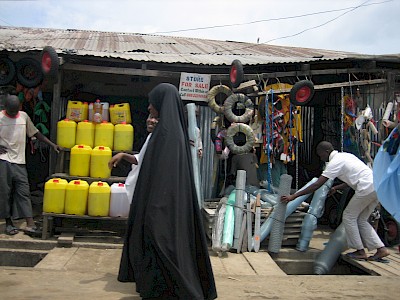 In Nigeria, the poorest people, especially women, continue to suffer the blatant injustices. Cases of stoning, amputation, and flogging remain common following convictions in Islamic courts in northern Nigeria. Les cas de lapidation, d'amputation de membres et de flagellation continuent d'être fréquents à la suite de condamnations prononcées par des tribunaux islamiques des États du Nord du pays.
The situation remains precarious for many prisoners who are detained without knowing the reasons for their imprisonment. This gives rise to stressful scenes, such as that of a prisoner in Bauchi prison who asks for his hand to be amputated as quickly as possible so that he can move on and get on with his life. 
---