---
LWBC moves into its first office in Quebec City, located at 435 Saint-Joseph Est Street. Two employees join the organization, which now has a team of three full-time employees.
---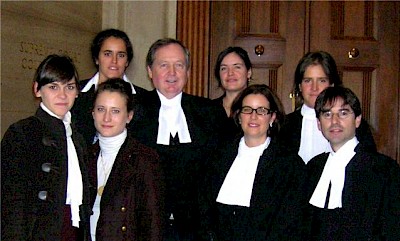 In the Omar Khadr case, with the collaboration of the Barreau du Québec and the Groupe d'études en droits et libertés de l'Université Laval (GEDEL), LWBC perseveres and pleads before the Supreme Court of Canada as an intervener. 
The Court severely judges Canada's conduct and declares that the prisoner's rights, during an interrogation conducted by Canadian intelligence officers knowing that he had been subjected to inhuman and degrading treatment, have been violated and require reparation.
LWBC also approaches the authorities responsible for the US Military Commissions to obtain independent expert observer status and to be able to attend hearings.
 
---
In Colombia, LWBC begins the second phase of its Accès à la justice des communautés autochtones et des victimes du conflit (Access to Justice for Indigenous Communities and Victims of Conflict) project, which focuses specifically on supporting lawyers working for Indigenous and Afro-Colombian communities.
This phase also focuses on providing targeted support for litigation work carried out by the legal department of the National Indigenous Organization of Colombia.  
The organization helps train nearly 600 members of indigenous communities particularly affected by the conflict and provides their lawyers and jurists with the tools to defend their rights and acquire the legal means to make access to justice a reality. 
The public launch of the Caravan of Lawyers in the presence of the UK Secretary of State for Foreign Affairs leads to extensive press coverage and contributes directly to a reduction in the military aid budget allocated to Colombian forces by the British army, a key moment that demonstrates the extent and concrete impact of the work carried out by LWBC and its partners.
LWBC even approaches the International Criminal Court (ICC) to encourage it to open an investigation to demonstrate that Colombia is not complying with its obligation to investigate, prosecute and punish those responsible for international crimes on its territory.
LWBC joins with ASF Brussels to promote the use and effectiveness of ICC mechanisms to demonstrate that the country has the jurisdiction to investigate individuals whose criminal responsibility is substantiated by credible information.
---