---
After 10 years of existence, LWBC has a team of approximately 40 employees in its four offices, multiple local collaborators and partners and more than 200 volunteers and contributors from across the country.
 
---
In Guatemala, LWBC arranges for the travel to Ecuador and Costa Rica of witnesses who must testify before the Inter-American Court of Human Rights (IACHR). LWBC supports its partners in the Human Rights Office of the Bufete Jurídico Popular de Rabinal and the Centre for Legal Action for Human Rights, who have achieved significant victories, particularly in such cases as:
the "Diario Militar", a case based on a list of 183 persons who dissapeared between 1983 and 1985, a document that proves the systematization of State repression during the armed conflict; 
the Rio Negro community, where five massacres were carried out between 1980 and 1985 by representatives of the Guatemalan army and militiamen who were members of the Civil Self-Defence Patrols (PAC). The Court recognized the international responsibility of the Guatemalan State for violating the right to life, personal integrity, recognition of the legal personality and personal freedom of members of the community.
LWBC sends dozens of volunteers and provides financial, material and technical support to the Human Rights Office in the following cases:
José Efrain Rios Montt,

former head of state

, who 

appears at a preliminary hearing to respond to charges of 11 massacres, 485 rapes of women and children and the forced displacement of 19,000 people from Mayan communities;
the Plan de Sanchez massacre of 1982, where five former members of a paramilitary force were sentenced to 30 years in prison for each of the 256 assassinations and an additional 30 years for crimes against humanity.
These cases before the national courts cause a real tsunami in the fight against impunity and suggest a new wave of hope in the country.
---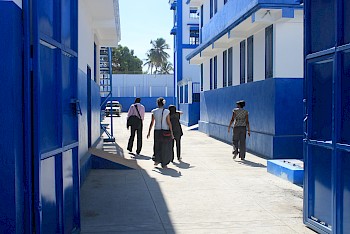 In Haiti, lawyers and personel from the LWBC Justice Centre reap the benefits of their work by enabled, in partnership with the organization Défenseurs des opprimés (Defenders of the Oppressed), the release of people living in displacement camps who had been unjustly arrested and detained.
In collaboration with the Office de la protection du citoyen d'Haïti (Office of the Ombudsman), they also enable the release of minors who have been improperly incarcerated. 
---
In Colombia, our commitment and our cooperation actions with partners lead to:
judicial victories for the National Indigenous Organization of Colombia in favour of the territorial rights of the Embera-Katí peoples; 
the allocation of greater resources by the Attorney General of the country to teams investigating complaints from relatives of victims following the release of a LWBC report on civilians killed by soldiers, then disguised as guerrillas in order to collect bonuses (case of the "false positives", or "falsos positivos"). 
---