---
In Guatemala, LWBC celebrates one of the most spectacular results to which it has contributed: for the first time in the world, a national court has established the criminal responsibility of a former head of state for war crimes and genocide. Former dictator José Efraín Ríos Montt is sentenced to 50 years in prison for genocide and 30 years for war crimes.
However, the country's Constitutional Court overturns this decision on highly questionable procedural and technical grounds. While the trial is to be resumed, the initial decision, greeted with much enthusiasm around the world, has already made history and will mark the evolution of national and international jurisprudence for crimes of this gravity.
 
---
In Haiti, after 30 years of waiting, the presumed victims of the Duvalier regime finally have a chance to be heard in court. LWBC and the Collectif contre l'impunité (Collective Against Impunity) are forcing the former dictator to appear before a court in his country to face charges of crimes against humanity.
This is a historic step that contributes to weakening the wall of impunity built around the former dictator. LWBC contributes directly to the development of the strategy and legal arguments that will be presented on appeal by the Collective.  
 
---
In Colombia, LWBC is actively involved in national discussions on transitional justice models to be considered in order to promote a return to peace, in particular with the presence of an observer at a hearing before the Constitutional Court concerning the establishment of a legal framework for peace.
In an emblematic case of strategic litigation, the murder of trade unionist Luciano Enrique Romero, LWBC argues that the facts should be considered a systematic attack on civilians in the trade union movement.
The court orders that the violence and persecution of trade unionists in the Caesar department be the subject of a broader investigation, which opens up the possibility of greater justice for human rights defenders.
---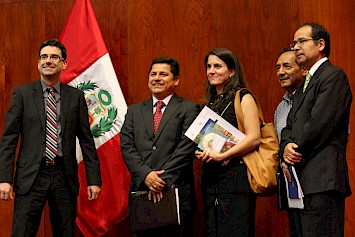 In Peru, LWBC establishes a new partnership with the Institute for the Promotion of Social Development (IPRODES) . LWBC in involved in the development of a guide to assist justice operators and to train judges and lawyers in the evaluation of evidence in cases of sexual assault against women and minors.  
---
The programs Accès à la justice des communautés autochtones et des victimes du conflit en Colombie (Access to Justice for Indigenous Peoples and Victims of the Colombian Conflict), Justice de première ligne d'urgence et de transition en Haïti (Frontline and Transitional Justice in Haiti) and Renforcement de la représentation légale en matière de litige stratégique de droits humains au Guatemala (Strengthening Legal Representation in Strategic Human Rights Litigation in Guatemala), started in 2010, are concluded simultaneously, with the following results:
In Colombia, 61 strategic litigation cases were advanced, enabling more than 700 victims to assert their rights; 
In Haiti,

legal aid and legal assistance was provided in 1900 cases involving persons in situations of vulnerability

, mainly cases of violence against women or children (40%) and abusive pretrial detention (31%); 

In Guatemala,

40 emblematic cases of strategic litigation of emblematic cases 

were supported for the benefit of more than 3,000 victims of serious human rights violations. These cases, led by the Human Rights Office established by LWBC, have resulted in seven historic judicial victories and set major precedents in a society marked by years of impunity. 
Après une croissance soutenue de 2008 à 2010 et l'atteinte d'un seuil appréciable de revenus entre 2010 à 2013, l'organisation se voit toutefois dans l'obligation de contracter son budget de 75%. ASFC gère la situation avec rigueur, soumettant l'organisation et son personnel à un régime minceur tout en maintenant un niveau d'efficience exceptionnel dans la mise en œuvre de ses programmes.
---